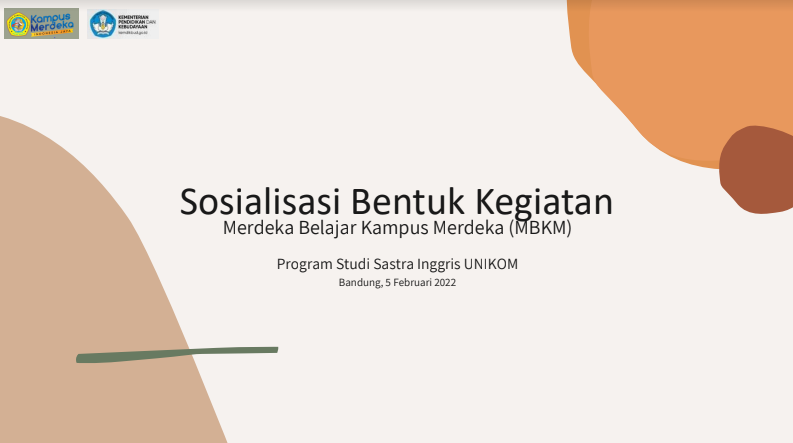 Independent Campus For Free Learning (MBKM) is associated with a Program coined by the Ministry of Education and Culture in Indonesia, in which the program enables students to gain both several academic disciplines and professional specializations. This program was newly launched in 2020, following Permendikbud Number 3 of 2020 Article 15 Verse 1. The program includes several activities, such as:
Student Exchange
Internship
Teaching Assistant Job
Research
Entrepreneurship
Independent Project
Volunteering
Community Service
English Department of Universitas Komputer Indonesia supports this program as well as encourages students to join the activities. This program will positively provide students with an unforgettable experience with surprising benefits to improve their skills. Thus, the English Department of UNIKOM purposely held an event named "Kegiatan Sosialisasi Program-Program MBKM" on Saturday, 5th of February 2022 at 9 AM. Many students from English Department UNIKOM enthusiastically joined the session to get familiar with the MBKM program.
Dr. Retno Purwani Sari, S. S., M. Hum, as a speaker, defined the procedure of applying for the MBKM program. Likewise, she specifically elaborated steps to join the program from the start to the end. Also, she emphasized one of the programs named IISMA (Indonesia International Student Mobility Award). She asserted the benefits of this program, such as experiencing international culture, building networking, studying in prestigious universities, and preparing for a future career.
Surprisingly, this program is considered one of the most popular programs among students. Yet, several students reluctantly joined the program. When the moderator, Mia R Yuwita, S. Hum., M App Ling asked why students reluctantly join this program, they confirmed that one of the problems they have to encounter is associated with language skills and financial matters. They admitted that they did not get used to speak English, and they were too afraid to try. In addition, they believed that getting English Proficiency Certificate was overpriced they could not afford it.
However, the main problem the students have to solve is involving English proficiency. They agreed that enhancing English skills before applying for the program is considered the best solution for them. Hence, this event practically generated another idea to solve the problems overcome by the students. Both Dr. Retno Purwani Sari, S. S., M. Hum and Mia R Yuwita S. Hum., M App Ling believed that students need to improve their English skills and English Department is expected to facilitate them. The event sums up another event, which is a workshop; IELTS workshop, to boost students' English proficiency. This workshop will be announced later on and it is hoped that many students will join it.