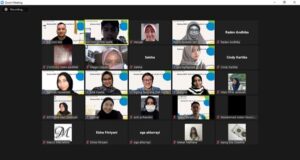 One of the MBKM programs is IISMA, which is a student exchange program abroad. One of the requirements is to include an English competency certificate, and one of them is an IELTS certificate. Therefore, the UNIKOM English Literature Program held an IELTS "What to Prepare and How to Ace" WORKSHOP on Saturday, February 26, 2022, at 09.00.  The chief executive and moderator of this event, Mia R. Yuwita, S. Hum., M. App Ling, succeeded in making a lot of students from UNIKOM join this workshop.
Dr. Retno Purwani Sari, S.S., M.Hum. gave the opening speech by emphasizing the importance of this workshop as one of the ways to improve one's English skills.
Assoc. Prof. Dr. Soni Mulyawan Setiana, S.Pd., M.Pd. officially opened the workshop event. He stated that he fully supported this event as it could help students overcome their difficulties in English.
In this event, we will get to know more about:
  1. What Is IELTS?
  2. What Competencies Are Tested?
  3. How Is The Preparation?
  4. Strategy
  5. IELTS Test Price
In this event, apart from a question-and-answer session, there was also a Speaking Practice session that helped us practice speaking skills in English.  Students who joined this workshop would of course benefit from sharpening their English language skills which was also assisted by the presentation of very interesting knowledge and tips from our two speakers in this event, namely Fatima Rahmah S.Psi, M.Ed (ECE) who discussed thoroughly what the IELTS program is and also Evelynd M.Comn.  & MediaSt who discussed tips and tricks to get a high IELTS score.
One may be curious, why is there a speaking practice session in this event?  Because the name of the event is "workshop" means directly carrying out activities in accordance with the event.  In this session, we were divided into several groups (breakout rooms) and it consisted of 4 members and 1 examiner.  In the session, we had conversations between examiners and members in a relaxed atmosphere. Not only that but we can also tell stories or ask anything while practising our speaking.
Fatima Rahmah S.Psi, M.Ed (ECE) as the first speaker who provided very interesting and important information, she discussed the meaning of IELTS, how many modules and sections are IELTS, how IELTS is assessed, and she gave an example of the IELTS test. Likewise for our second speaker, Evelynd M.Comn.  & MediaSt which also provides a lot of useful information.  She also gave several agendas: why should IELTS compare to other tests? what to aim? how to be confident, and lastly, she provides easy-to-reach training.
Many questions from students were developed, but the most knowledgeable ones were, how to learn an accent, and how to be fluent in speaking.  There are several tips to overcome this problem. Because in the speaking test the required IELTS score is at least 7 (good).  Indeed, currently, many students are not confident in speaking, therefore this workshop was held.
During the breakout room session, the room consisted of 5 students and Fatima Rahmah S.Psi, M.Ed (ECE) as a speaker and the speaking practice facilitator. The participants have the opportunity to speak practice with the speaker. We started practice starting with speaking level 1 which contains a brief self-introduction, only mentioning the name, university name and ID number, then it continued to practice level 2 which contained several questions about hometown, hobbies and brief experiences, only 3 out of 5 students took part in the speaking practice. We were nervous at first, but Fatima Rahmah S.Psi, M.Ed (ECE) is a very experienced speaker who managed to make us dare to speak fluently. (Hani Zakkiyah, Sastra Inggris 2020)